SamTrans buses now offer free, on-board Wi-Fi. Passengers can text and message, check social media, game, email and use the web.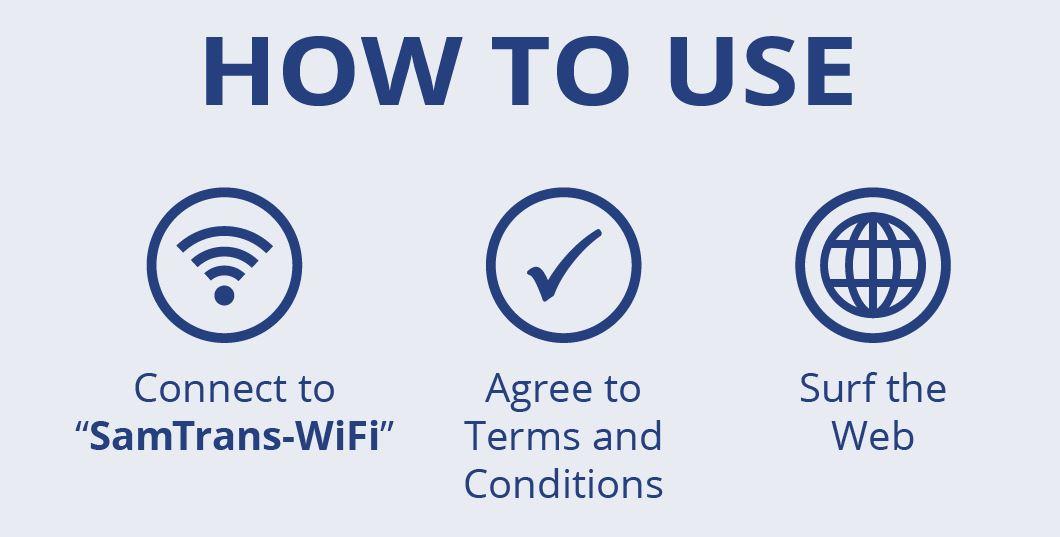 How to use: Connect to "SamTrans-Wi-Fi" and agree to the terms and conditions. That's it.
Report a Problem
To report a problem with the Wi-Fi service, please use the Wi-Fi Report Form. The bus operator will not be able to address Wi-Fi problems, so please allow them to focus on the road.
Frequently Asked Questions:
Which buses are Wi-Fi enabled?

Most SamTrans buses offer Wi-Fi. Information will be posted on the bus to indicate Wi-Fi capability and instructions on how to connect.
What about video, bandwidth and network speed?

Onboard Wi-Fi service is equivalent to 4G LTE and can accommodate basic Internet browsing. Current bandwidth limits video streaming and large downloads. Due to the cell network limitations, there may be locations where service is intermittent or unavailable. In addition, overall connection speed may be affected by the number of Wi-Fi users on the bus.
How long can I use the Wi-Fi?

Use Wi-Fi as long as you are on the bus. There is no limit to how long you can use the onboard Wi-Fi.